Travel Information for Victoria & Southern Vancouver Island
Your Dashwood Manor Seaside Heritage B&B Inn hosts, Dave and Sharon Layzell, love their travel adventures, and they enjoy taking time to pass along their tips for making the most out of your visit to Victoria and Southern Vancouver Island. Here's a snapshot of some of our favourite day trips from Victoria.
Five Day Itinerary
Day 1- Walk the Neighbourhood
A sunny day, of course! Saunter along the beachside walking pathways starting just outside our front door, heading east to Clover Point. Imagine the thrill Dashwood's original owners felt at the turn of the century when trundling down to this wedge of land to practise shooting targets. Turn back, walking along the beach to the first access walkway back to the paved pathway at the top of the bluff, looking for treasures brought in by the tides overnight. These beaches and paved pathways are an integral part of Beacon Hill Park, and they have become an official off-leash area for dogs in recent years. Many guests love their walks along the seashore, meeting the well-behaved dogs and their owners. The off-leash program has been tremendously successful for the dogs, their owners and for the general public who enjoy seeing the variety of animals and watching them have great fun.
Explore a couple of the other beach access points as you head west, stopping to relax on a beach log, watch ships and sailboats going by. Choose one of the James Bay streets (South Turner is a great one) and head away from the ocean and go to Victoria's Inner Harbour in the heart of downtown.
Spend a couple of hours touring the Royal British Columbia Provincial Museum with its many, interactive exhibits detailing the region's rich cultural history, early European settlement, the uniqueness of the Pacific North West environment and more. Catch an Imax movie at the museum's Imax Theatre.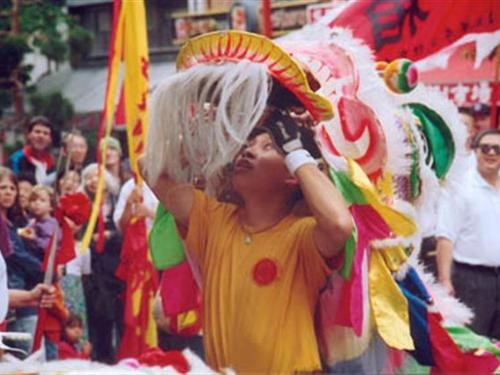 Wander up Government Street and find a classic Victoria restaurant for lunch. Two local, unique favourites are Rebar, a vegetarian restaurant at the corner of Langley Street and Bastion Square and Pagliacchi's on Broad Street near the Bay Centre at Fort Street. After lunch, wander further into the downtown core and lose yourself in the alleyways and interesting shops in Victoria's Chinatown, the oldest Chinese community on the west coast. Remember to check out the many galleries and independent shops of uniquely Victorian articles. Love hunting bargains and browsing really unique shops? Find Capital Iron and Chintz! Finally, head back to the Inner Harbour and board one of the Victoria Harbour Ferries to go to Fisherman's Wharf and find Barb's Fish and Chips right on the docks for a fresh, outdoor dinner!
After dinner, wander the Inner Harbour and soak up the heat from the massive rock walls. Enjoy the buskers and artists who make this area so special.
Day 2 - A Summer's Day Excursion
Get out on the water to feast and learn about our incredible marine environment: go whale watching, sailing or deep sea fishing!
Have the whale watching crew from Eagle Wing Whale Watching pick you up Dashwood Manor for their three and a half hour whale watching experience. This is one of those stellar moments that will change your view of sea mammals forever.

Harold and Brett and their staff provide an exciting and comfortable ride on their high speed scarab design boats, the Eagle Wing and the Gold Wing. These tour operators are knowledgeable, sensitive to the whales and their delicate ecosystem and entertaining.
If you prefer a more active role, go sailing with Captain Al and his crew on their 35 foot Beneteau cruising sloop, Ibis. Day trips, overnight cruises or week long sailing adventures are Al's specialty. In for real adventure, let us reserve a deep sea fishing experience for salmon or halibut with Paul Paquin and his fishing charter, If We're Lucky Fishing Charters. Paul is an experienced and knowledgeable guide, and he has made sure our guests have always been lucky enough to come home with a catch!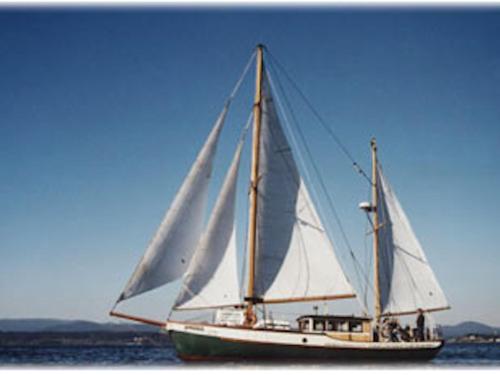 Upon returning and resting up a bit, head to Butchart Gardens for a tour before the evening lights come on. Plan ahead and make a reservation for dinner at Butchart's Dining Room Restaurant, a wonderful restaurant with a magical setting in the Butchart family's original home, set in the middle of the garden. Stay until the evening lights come on and watch the transformation of the garden areas as nightfall and coloured lights create their unusual effects.
Day 3 - Visit Southern Vancouver Island's Coastal Communities
Take a leisurely day trip and discover the gentle lifestyle and scenic wonders of southeastern Vancouver Island. Explore ancient rainforest trails and coastal villages. Taste striking wines and ciders from local vintners. See Chemainus' spectacular murals. See Duncan's totem poles. Experience the tranquility of island life.
We can help you plan your day tour of Vancouver Island's east side from Victoria to Nanaimo (110km / 70 miles). Start your tour heading north on Hwy 1 and choose from the many exciting opportunities that follow. Hike the forested trails of Thetis Lake or nearby Goldstream Park, a mere 15 minute drive from the heart of downtown Victoria. Thetis Lake Park is 778 hectares, with three lakes, well-marked trails, a decent swimming beach, ancient forest, and rocky hilltops with breath-taking views of the region.

Goldstream Provincial Park has great spirit! Massive 600-year old fir and cedar trees, majestic waterfalls, a meandering river that meets the sea, flowers, birds, animals. See the world class salmon-spawning stream with thousands of salmon returning between October and December. Take a short hike to Niagara Falls, a 50-metre cascading waterfall. Find an abandoned gold mine or take trails to incredible views. Get up close to one of the largest concentrations of Bald Eagles anywhere in Canada from December to February.
One of Vancouver Island's most scenic drives, the Malahat Drive, lies ahead, with some breath-taking views across Saanich Peninsula, the Gulf Islands, as far as snow-capped Mt. Baker in Washington State. Perched near the Malahat Summit, stop for coffee at the Malahat Mountain Inn. With great food, interesting wines and cozy atmosphere, this restaurant offers spectacular views of the Saanich Inlet and Gowland Todd Provincial park.
Less than an hour's drive from Victoria over the breathtaking Malahat Drive, you will find the gently rolling countryside of the South Cowichan, Vancouver Island's Wine Country. It is a land of farms and forests, lakes and rivers, rolling hills and ocean beaches. Head for the wineries or tour the coastal and countryside communities of Mill Bay, Shawnigan Lake, Cobble Hill and Cowichan Bay. Award-winning wineries and one cidery are alive and well in the South Cowichan. Grab a map of the wine route, and tour the paved, country roads through lush rolling hills, enjoying some complimentary tours and tastings. Watch for the annual festival 'Wines of the Island' in the first week in September.
Duncan, known as the "City of Totems," is 40 minutes from downtown Victoria. Tour through the town shops, searching out almost eighty totem poles spread throughout the city. There are 41 totems on the self-guided tour, or you can take a free guided tours provided by the Cowichan Valley Volunteer Society. Interested in a steam train ride and genuine logging machinery from days gone by? Visit the BC Forest Museum just minutes north of Duncan's town centre on Hwy 1.
Heralded as "The Little Town That Did" Chemainus is known world-wide as the largest outdoor art gallery. Thirty-three larger-than-life historic paintings are scattered through the streets and alleyways of this century-old former mill town. Take a trolley tour through town or follow the painted footprints and discover the murals, all carefully woven into the idyllic townscape. Look for antiques in the shops here, in Ladysmith and in Duncan. Plan ahead and stay for theatre at the Chemainus Dinner Theatre for some Bernard Shaw, Agatha Christie or some light comedy.
Drive north 10 miles to the picturesque town of Ladysmith, and wander the shops in this historic townsite. One of Sharon's favourite quilt shops is located here. Next stop: Yellow Point, on the east side of Hwy 1. The rolling landscape of the Yellow Point area is rural and mostly undeveloped, with a wide array of studios, craft shops and cottage industries. Discover locally made products ranging from fine artwork, stained glass, pottery, and herbs.

Visit the Barton and Leier Gallery, a magical studio with a huge, 3/4 acre extensively planted garden, designed with hanging lanterns and funky art. The house, gallery and garden are filled with wacky, including Barton and Leier's art, which is colourful and whimsical. The gallery is open 11 a.m. to 5 p.m. Thursday to Sunday from the middle of March through to December. Admission is free and guests should allow one hour to tour and enjoy the gallery.
The 30 year old Crow & Gate Pub is located on ten acres near Barton Leier Gallery. Lush lawns, a humungous pond with black swans and muscovy ducks, Elizabethan ambience in pegged beam and plaster construction, and terrific food make this one of Vancouver Island's great secrets.
Ready for an island hopping adventure? Take the BC Ferry System's ferry from Crofton to Salt Spring Island, the region's largest, most populated island, and the home to many talented artisans who share their work in their studios dotted around the island. Make sure you get a map of the studios from Dashwood before you leave.
Day 4 - Walking Tour of Fairfield, Rockland and Victoria's Antique Row
Head up Cook Street five blocks to the eclectic Cook Street Village, stopping to browse in the book store, antique shops and to breathe in the wondrous aromas emanating from Bubby Rose's Bakery. Once you leave the village, choose any street and wind east and north. Some of our favourite streets are Linden, especially north of Richardson and Trutch.

Look for the old Fairfield Farmhouse for Sir James Douglas' original farm of 500 acres, which he purchased for one pound per acre, on the east side of mid-block Trutch. Work your way towards the Art Gallery of Greater Victoria on Moss Street above Rockland Avenue. Let your imagination lead you through the exhibits, looking for the Asian influences on West Coast art and culture and seeing works by some of Vancouver Island's best artists.
Travel back to Rockland Avenue and go east a few short blocks to Government House, the official residence of the Queen's representative to British Columbia, our Lieutenant Governor, currently Iona Campagnolo. The 15 acres of lovely gardens, with the amazing ocean views this gem of a property has, are open to the public from morning to dusk.
Look to the north for the red tiled turrets of Craigdarroch Castle, and wind your way up the three blocks for a tour. This was the home of coal baron Robert Dunsmuir and is now a heritage site - well worth a visit. The stained glass alone is worth the visit, but you will be amazed at the lifestyle and decadence of the very wealthy Dunsmuir family.
Now that you have antiques on your mind, head to Fort Street and go west towards the downtown core. It's a 15 minute walk to Government Street, but there are lots of shops, good restaurants and coffee shops along the way. This walk is officially called Antique Row, so named for the many antique shops along the streets from Cook to Blanshard. Be sure to stop in at Kilshaw's Auctioneers on the south side by Cook Street and Lund's Auctioneers near Quadra Street. Victoria has very fine auctions due to the genteel base of the population.
Look for the Chinese, Korean and Thai restaurants along Fort Street for a cultural experience and tasty lunch.
For a relaxing afternoon after all the walking, take a double decker bus tour of the city. These one and a half hour, narrated tours are fun and informative. Pick up the bus in front of the Empress Hotel directly in front of Victoria's Inner Harbour.
Day 5 - Driving Tour to Metchosin, Sooke and Port Renfrew
Leaving Dashwood Manor, travel north on Douglas Street, which becomes Hwy 1, to the Millstream Road exit, a 15 minute trip by car. Follow the signs from here to Bear Mountain, a golf resort and village centre in the fast-growing municipality of Langford. This is a tour that golfers will especially appreciate. Drive up the mile long road to Bear Mountain's two golf courses, spas, restaurants, hotels and housing areas for the newly developed village centre. The golf courses are Jack and Steve Nicklaus designed, and they are among Canada's most scenic and most challenging.
Head back to Hwy 1 and travel south towards Victoria going to the first exit, the road to Sooke, Hwy 14. Turning west off the highway, go approximately one mile to the traffic light controlled turn for Fort Rodd Hill National Historic Site.

Fort Rodd Hill was built in 1878 as a coast artillery fort to defend Victoria. The Fort includes three gun batteries, underground magazines, command posts, guardhouses, barracks and searchlight emplacements and fairly tame black-tailed deer. Fort Rodd Hill's three artillery batteries had a range of 10,000 yards covering the Juan de Fuca Strait and the important entrance to Esquimalt Harbour. When the fort was closed for active duty in 1956, the guns had never fired a shot. Fort Rodd Hill became a National Historic Park in 1962.
Tour the battlements, explore gun batteries and underground magazines built a century ago, as well as searchlight emplacements, command posts and enjoy the great views of the Esquimalt Harbour, Victoria's coastline, the Strait of Juan de Fuca, Washington State's Olympic Mountains and the Esquimalt Lagoon. You can go down to the pebble beach to wander on out to Fisgard Island and the historic and amazing Fisgard Lighthouse.
Built by the British in 1860, when Vancouver Island was not yet part of Canada, Fisgard Lighthouse was Canada's first lighthouse on the west coast, and it is still in operation! Once a beacon for the British Royal Navy's Pacific Squadron, today Fisgard still marks home base for the Royal Canadian Navy. Inside the building are two floors of exhibits, dealing with shipwrecks, storms, and the everyday working equipment of the light keeper a century ago.
Leaving Fort Rodd Hill, head west again on Hyw 17 and turn left at the second traffic light into the grounds for Royal Roads University, the home of Hatley Castle and Hatley Park National Historic Site.
Hatley Park is one of Canada's largest and most diverse National Historic Sites. Currently part of Royal Roads University, this site is one of Victoria's best kept secrets. For many years the castle and gardens were part of a military college, and public access was limited. Many Victorians knew little of this gems true character. Now, greater public access and guided tours give you an opportunity to learn about one of Victoria's most notorious families and to tour a magical castle and gardens.
At the centre of Hatley Park is a magnificent castle built in 1908 by James Dunsmuir, a former British Columbia Premier and coal baron. You may recognize the castle as it has been used in many great movies, and it's a regular feature setting for the X-Men series of movies. One of my favourite stories involves how James, not particularly fond of his father, built his castle one foot wider and a foot longer than Craigdarroch, the castle in downtown Victoria built by his father.
James' father, Robert Dunsmuir (1825 to 1889), could be described as one of British Columbia's most significant entrepreneurs of his time. A Scotsman with an instinctive knowledge of coal mining, he emigrated from Scotland to Vancouver Island with his wife Joan in 1850. Robert and Joan had 10 children, eight daughters and two sons. It was James Dunsmuir, their eldest son, who became very prominent in politics and business and developed Hatley Park Estate.
The family accomplished many things, including mining coal along the west side of Vancouver Island, creating BC's coal industry, and building the Esquimalt and Nanaimo (E & N) Railway that still travels between Victoria and Courtney, a coastal town midway on Vancouver Island's east coast, three hours driving time north of Victoria.

In 1912, the Dunsmuirs hired a team of American landscape architects and began work on a classic landscape design for their entire 565 acre property at Hatley Park. The plan organized the estate into four distinct landscape zones progressing from a series of nine formal garden rooms near Hatley Castle, to recreational spaces, then to agricultural lands, and finally to the forest surrounding the estate. During the Dunsmuir era, approximately 100 gardeners and groundskeepers tended the estate. Japanese Gardens were a fascination to Edwardian society, and Dunsmuir hired the same Japanese designer who developed Robert and Jennie Butchart's Japanese garden to create his own unique Japanese garden.
James Dunsmuir lived at Hatley Park with his wife Laura until his death in 1920, at age 69. Laura remained on the estate until her death in 1937. For the next three years, the estate sat vacant and was maintained by a caretaker.
In 1940, the Canadian government purchased Hatley Park, almost in its entirety from the Dunsmuir family for $75,000. This purchase included the 565 acres of land, Hatley Castle, the Greenhouse, Conservatory, Mews barn and other structures that were on the property for the family, their gardeners, staff and servants. With the Dunsmuir family spending a reported $11 million to develop the estate, the Canadian Government did very well indeed!
From Hatley Castle and Royal Roads University, work your way further west to explore some of the region's most scenic parks and pastoral rural communities. Follow Hwy 17 west towards Sooke and turn south at Metchosin Road.
Interested in local art, or want to participate in a program, class or workshop lead by local artists? Visit The Coast Collective Art Centre near Fort Rodd Hill and Hatley Castle. The gallery and art centre is located in Pendray House, a wonderful, historic building looking out to the Esquimalt Lagoon. It's a magical setting nestled between a picturesque lagoon ecosystem that is a well known migratory bird sanctuary with the backdrop of massive firs from our Pacific Rainforest.
A group of four local artists have created a new and different kind of art centre, with juried themed shows of work by local artists - including significant contributions by local First Nations artists, classes and workshops offered in a wide range of media. The Coast Collective Gift Shop showcases some of the incredible local talent, including items in a full range of prices. Address: 3221 Heatherbell Road. Phone: 250 391 5522
Enjoy the views across the water towards Victoria and towards Washington State's Olympic Mountain Range. This rural idyll is a haven for artisans and small acreage specialty farmers. Tour some of the studios of potters, artists, furniture makers and more. The annual Stinking Fish Studio Tour is a well-organized event that draws people from all over. Use the Stinking Fish website for maps and a directory of studios for your travels.
Another way to explore this pastoral hideaway is by cycling along the extensive Galloping Goose Trail. This picturesque multi-use trail, formerly a railway line, moves through urban, rural and wilderness scenery on its 55 kilometre journey from Victoria to Sooke. You can cycle, stroll, run, or even ride a horse through the rural sections.
The Galloping Goose Regional Trail was named for the gas-powered passenger car that carried mail and 30 passengers twice daily between Victoria and Sooke during the 1920s. It is part of the Trans Canada Trail, a national multi-use trail system linking trails from coast to coast. The Goose intersects with the Lochside Regional Trail, a 29 kilometre former railway line from Saanich to Sidney. Bike rentals are easy to obtain, and Victoria is one of the best cities in North America for cycling. Ask us to provide you with rental company information, including Coastal Watersports, which delivers bikes to Dashwood Manor for our guests' use.
Back to exploring the Metchosin area. Look for Witty's Lagoon Park, a ten minute drive from Hatley Park.
Our regional park authority manages more than 10,000 hectares of spectacular and easily accessible natural areas in 30 regional parks and trails on southern Vancouver Island and the Gulf Islands. Witty's Lagoon Regional Park is a 57 hectare park (140 acres) featuring a salt water lagoon that is excellent for bird watching, spectacular ocean views across to Downtown Victoria and over to the Olympic Mountain Range, more than five kilometres of trails through woodland, beside the lagoon and marsh areas, and a wonderful, sandy beach that has shallow, warm water areas for seaside strolling and for swimming when the tide is partially out.
Park in the main parking area, across from Metchosin Golf Course and between the church and school properties. Follow the 20 minute hiking trail down to the beach. Watch for Sitting Lady Falls and for the variety of birds and other wildlife in this delicate ecozone. Witty's Lagoon is a birder's paradise -over 160 species have been documented in the park. Listen for the rattle call of the belted kingfisher, and the songs of orange-crowned warblers and dark-eyed juncos. Bring your binoculars, and be prepared for discovery, but remember to respect the habitat and birds that use it.

Leaving Witty's Lagoon, go a short distance further south to 'Chosin Pottery Studio. Robin Hopper and Judy Dyelle are the dynamic artisans who live and work here, tend the 5 acre garden and sell their products in the delightful studio. Robin is a master gardener, and he opens his garden freely for visitors to his studio. Wander through and you'll be surprised at every turn. Gladiator tunnel, a singing chamber, a salmon stream and more delight the visitors who take time to wander this exceptional garden.
Ready for wilderness and a better chance to experience a rugged west coast hiking trail along the rocky coastline? West Coast wilderness awaits you at East Sooke Regional Park. Experience it as you hike along the windswept rocky coast, over dry hilltops, through dark rainforest to sheltered coves.
Two of our favourite areas in East Sooke Park are Aylard Farm and Anderson Cove. You can get to them from Metchosin if you find Rocky Point Road and head for Beecher Bay. Get directions from locals in Metchosin's village store or borrow a map from us before you go.
Aylard Farm is on the east side of the park. This park is popular with picnickers and with those looking for easy hiking excursions. A five minute walk through open fields leads to a pocket beach where you can discover intertidal life or watch river otters scurrying across the sand. Trails head inland to hilltop views or along the rugged Coast Trail, a 10 kilometre, challenging trail, and to some petroglyphs a short distance from the beach.
Anderson Cove is on the west side of East Sooke Regional Park. This park is located on the Sooke Basin and it's the starting point for hikers heading to Babbington Hill and Mount Maguire. On these hilltops, bald eagles, turkey vultures and red-tailed hawks join you for sweeping views of the Olympic Peninsula.
Work your way back to Hwy 14 by following Gillespie Road or Happy Valley Road then head west to Sooke. After approximately ten minutes driving time, you enter the Saseenos neighbourhood just at the beginning of Sooke and just after getting the first views of the ocean along Sooke Basin. Check into the Sooke Regional Museum, located on the west side of the bridge crossing the Sooke River. The museum is small, but it's oozing with west coast charm and great stories of the early years of fishing, logging and farming in this area. The museum also houses a friendly, helpful tourist information centre where you can get information on local tides, attractions, studios and beaches.
One of Victoria's all time favourite summer swimming areas is found nearby at the 55 hectare Sooke Potholes Regional Park on the spectacular Sooke River. Enjoy the views, explore the trails or take a refreshing dip on a hot summer day! The "potholes" are unique geological formations - deep pools in the river - that offer some of the best freshwater swimming in the region. The Sooke River is the second largest on southern Vancouver Island, and it's home to a productive salmon run every fall.

Sooke Potholes Regional Park is also a great starting point for a trip by bicycle or on foot along the Galloping Goose Regional Trail. Travel south on the trail toward Roche Cove Regional Park, or cycle your way through wilderness scenery all the way to the end of the trail at an abandoned mining town from the early 1900's, Leechtown.
Adventure, scenic beaches and coastline, artisan studios all make the journey to Sooke worthwhile. As one of the oldest settlements on Vancouver Island's West Coast, Sooke is a great jumping off point for recreational fishing and other boating opportunities. Both the harbour and basin are well protected from offshore winds providing excellent kayaking opportunities, sheltered boat launch ramps, moorage and charter fishing guides. Ask us to recommend or organize a charter for you.
Sooke is steeped in artistic talent as well as natural beauty, making it also a terrific destination for touring studios and for its annual art show and sale in August, the Sooke Fine Arts Show. Check our day trip packages for a map of studios to tour, or stop in at the Sooke Museum for more information.
Stopping for lunch and wanting some local fun? Mom's Cafe has been an institution in Sooke for as long as we can remember. Their loggers' breakfasts are the genuine article, and, yes, they're jam-filled with protein and calories for action packed days. From hamburgers to old fashioned milkshakes and mile high lemon pie, they have cornered the market on the local, small town diner experience. 2036 Shields Road, a half block from West Coast Road just past Otter Point Road.
Twenty minutes driving time west towards Jordan River and Port Renfrew, you will come across a hamburger shack local loggers, surfers and visitors frequent beachside in Jordan River. Get a burger and sit on a log watching the surfers play on the waves. Drive another ten minutes to Point No Point Resort and Restaurant by French Beach Provincial Park for a relaxing lunch overlooking the ocean. The views are exceptional and the food is excellent. 1505 West Coast Road, (250) 646-2020
Port Renfrew used to be the end of the practical road trip, but it's now part of the Pacific Marine Circle Route that takes you along former logging roads, which have recently been upgraded and signed for easier navigation as a public thoroughfare, to Lake Cowichan and Duncan. This circle route is rugged, remote and beautiful, but it does require careful consideration before starting out. Check with the Sooke Regional Museum tourism office before taking on this route. Returning to Victoria along this route is possible. It takes a minimum driving time of three hours to drive from Port Renfrew to Cowichan Lake, Duncan then back to Victoria.

Port Renfrew has among the best salt and freshwater fishing in the world. For the sport fisher, three distinct areas vie for attention: the mouth of Port Renfrew harbour, the Carmanah/Nitinat waters, and the Swiftsure Bank. The San Juan River is home to hefty steelhead, as well as northern coho averaging 20 pounds.
Port Renfrew is also home to Botanical Beach Provincial Park, an extensive sandstone beach covered with tidepools, teaming with intertidal sea life. The best time to see the tidepools is at low tide. Use the tide table websites here or ask at the Sooke Regional Museum and tourist information centre as you drive to the area. Two safety concerns are important to consider as you explore the area. First, beware rising tides so you do not get caught on rocky points with no safe return to land as the tide fills in between rocks and outcroppings. Second, Black Bear and Cougar may be present at any time. Black Bear have not become used to feeding on garbage, so pack your garbage out of the park. Cougars normally avoid people and are rarely seen. But, take precautions by leaving pets at home and by ensuring small children do not venture alone into brush areas.
For seven years beginning in 1900, the University of Minnesota's began bringing students and researchers come from all over the world to study marine life here. This shaped the park's future as a unique ecological zone that needed further study and tight protection to make sure it would be preserved forever. In 1989 British Columbia designated the area as a provincial park.
Spending a day touring Victoria's Western Communities, heading along the southern coast of Vancouver Island to Metchosin, Sooke and as far as Port Renfrew will give you a chance to experience Vancouver Island's scenic beauty and to absorb the region's fascinating history. Covering everything on the entire tour can take as much as three or four days, but a few hours or a full day will give you an appreciation for the extent and variety of Victoria's special places.