Nearby Victoria Area
Vancouver Island was voted the Top North American Island in the Americas by Conde Nast Traveler, while Travel and Leisure voted it the Best Island in the Continental US and Canada. Victoria is noted as the vacation capital of Canada and premiere tourist spot on Vancouver Island in the Pacific Northwest. This historic city is situated on the southern tip of beautiful Vancouver Island and boasts of having Canada's mildest climates. The City of Victoria carries the distinction of being the capital city of British Columbia. The Victoria region is the sunniest spot in the province with the most gentle of climates and most scenic of landscapes. Vancouver Island was voted the Top North American Island by Condé Nast Traveler, while Travel and Leisure voted it the Best Island in the Continental US and Canada. In 2003, Victoria was voted the Best City in the Americas by Condé Nast Traveler. Choose Dashwood Manor Bed and Breakfast for your lodging as you explore the fascinating history and widely recognized appeal of this region.
Local Neighbourhoods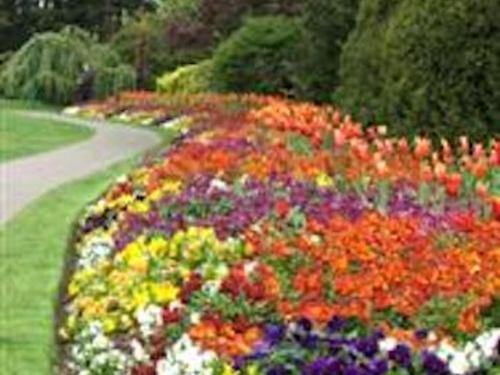 Downtown Victoria - a Short Walk
Choose your Victoria accommodations to take full advantage of Vancouver Island biggest city and its glorious waterfront scenery along the scenic Dallas Road marine drive. The smell of salt air, beaches a stone's throw from the door, beautiful public gardens and the most eclectic, popular and convenient village, Cook Street Village, all within easy reach. Downtown Victoria's entertaining and dynamic Inner Harbour is a delightful 20 minute walk through the popular gardens, ponds and pathways of Beacon Hill Park. Stroll the shops along Antique Row, spend the afternoon in the incomparable Royal British Columbia Museum, take in a romantic, horse-drawn carriage ride, or treat yourself to a sumptuous meal at one of the many fine restaurants Victoria has to offer. Take a short drive to one of our many excellent golf courses. Dashwood Manor is in one of the best neighbourhoods and is one of the finest, most affordable bed and breakfasts in Victoria, BC. What a perfect spot for your honeymoon, a corporate stay or your holiday vacation!
Be Active in Our Neighbourhood
Feeling adventurous? Go fishing, kayaking, zipline touring or whale watching! Or, let the Dashwood Manor staff organize a bike rental for you. Follow designated bicycle lanes along the seaside or head out, beyond the city core, to wooded trails, wineries and fabulous beaches. Dashwood Manor Bed and Breakfast is central to a wide range of outdoor adventure opportunities. Kite and wind surfing are active sports in the area. The beach across Dallas Road is often busy with surfers on the water and paragliders above. Interesting as a spectator sport! Have a look at Big Wave Dave's webcam of our beach.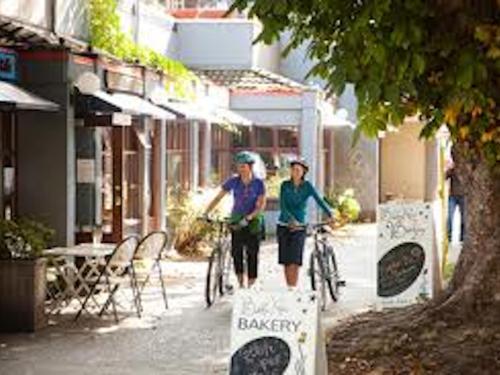 Stroll to the Cook Street Village
Are you looking for something more neighbourly, something at a slower pace? A short, 5 block walk brings you to the earthy, tree-lined, neighbourhood centre, Cook Street Village, with its four coffee houses, great range of casual eateries and fun, local shops. Drop in to see Kevin and Sydney at Serious Coffee. Pick up a bottle of great BC wine at our exceptional wine shop, Cook Street Liquorwww.bcliquorguys.blogspot.ca . Plan your lunch or dinner at one of the village's popular restaurants, like Pizzeria Prima Strada, with wood-fired, thin crust pizza, The Beagle, our friendly neighbourhood pub, Bubby's Kitchen, for superior quality wholesome foods or one of the host of eateries offering burgers, Mexican, Thai, Sushi, Ethiopian and tasty street food.
Ask us for suggestions for a walking route among our Fairfield neighbourhood's character streets and homes. In late April, spend a weekend touring almost 50 studios of the many Fairfield artists, including our favourites Robert Amos, Jim Gordaneer and Dorsett Norwich Young.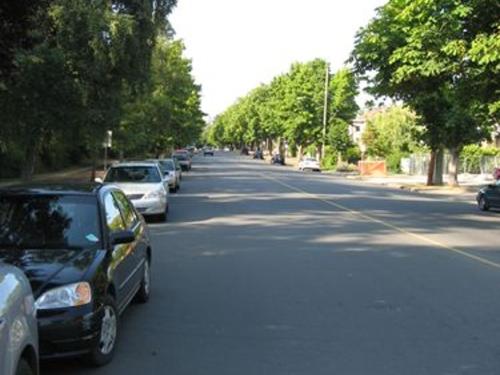 Walking Beachside. Explore Victoria's Seaside Walks
Walking pathways galore! Step outside the door and follow the dogs and their masters along Beacon Hill Park's Dallas waterfront pathways, with beach access at many points. Head east to historic Clover Point, the landing spot of Sir James Douglas, who arrived at this southern promontory on the famous Beaver in March of 1843 to found Fort Victoria as a trading post for the Hudson's Bay Company. This exposed and frequently windy point of land is a wonderful place to watch kites, paragliders and, on wintry stormy days, wild weather and great sea swells. Clover Point is one of Victoria's best birding spots. Watch for Shearwaters flying right along the shore. In season, you may find Bald Eagles, Peregrine Falcons, Oystercatchers, Black-bellied Plovers, Sandpipers and Turnstones. There have been occasional sightings of Red and Red-necked Phalaropes, Ancient Murrelets, Common Murres, Rhinoceros Auklets, Brandt's Cormorants, Thayer's Gulls, Bonaparte's Gulls and Harlequin Ducks.
Head west along the bluffs to Victoria's breakwater, a 25 minute stroll along paved waterfront pathways with majestic ocean views. Look for cairns commemorating things like Marilyn Bell's famous swim in 1956 across the cold waters of Juan de Fuca Strait from Port Angeles, Washington State to Victoria. Stop at Mile Zero of the western end of the Trans Canada Highway and look for Terry Fox's lifesize bronze statue celebrating this one-legged runner's journey across Canada in 1981 to raise research money for cancer. Most of all, breathe deeply, enjoying the fresh sea air and ever-changing scenes on this busy ocean playground while staying at our convenient accommodations, a heritage Vancouver Island bed and breakfast.
About Victoria, BC, Canada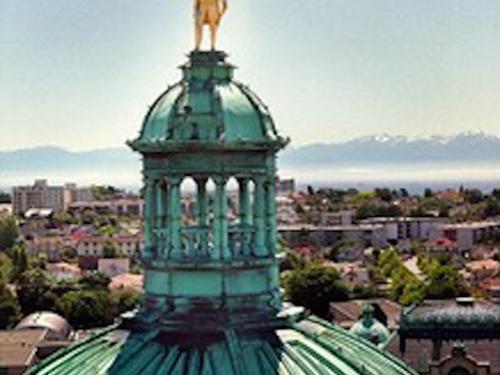 Vancouver Island and the Victoria region are rich in history. Visiting the many museums, historic parks and landmarks can help make your time in the area more exciting and interesting. Victoria has always been a land of plenty and a place of majestic views.
The Coast Salish peoples have called Southern Vancouver Island and the area around Victoria home for almost 10 thousand years. These talented and hardy people created a vibrant existence for themselves using mainly the local massive cedar trees and the abundant salmon and plants native to this area to build their lives. Feel the rhythm of their long history with this area as you walk among totem poles and discover the artistry of their homes, canoes, masks and everyday items at the Royal British Columbia Provincial Museum, in local shops and in places like the mystical atmosphere of Thunderbird Park in downtown Victoria.
The Spanish and British began exploring the area in the late 1700's, with Spanish sailors visiting the harbour area in the 1790's. Fort Victoria was founded in 1843 as a fur trading post for the Hudson's Bay Company, and, in 1849, this sleepy little outpost grew to become the capital of the British Crown's Colony of Vancouver Island, in the days prior to Canadian confederation. The Chief Factor of Fort Victoria, Sir James Douglas, was made governor of the colony, and he would be a leading figure in this area until his retirement in 1864.
The Hudson's Bay Company first established a fort in Victoria in 1843, naming the fort after the reigning British Queen, Victoria. Fort Victoria was built just above the waterfront at Fort Street, with present day Bastion Square being the parade grounds inside the fort. This historic hub of our wonderful city is also the site of the city's first jail and provincial courthouse, which was built in 1889. Visit the Maritime Museum and see this fabulous old building where famous judge Matthew Begbie, known as 'the Hanging Judge' ,held court.
With the discovery of gold in 1858, Victoria became the supply base for miners on their way to the Fraser Canyon gold fields. Victoria was incorporated as a city in 1862. The Royal Navy chose the area as their western base in 1865, and it remains Canada's west coast naval base to this day. Victoria became the provincial capital for British Columbia when the province joined the Canadian Confederation in 1871.
Visitors enjoy walking the historic and architecturally interesting streets of the Victoria's Old Town. Guided walking tours and relaxing, horse-drawn carriage rides are available to help make the most of a tour. Look at the tours available through John Adams or Danda Humphreys, two very knowledgeable and entertaining tour guides who also write extensively on the historical significance of our city's early characters and buildings.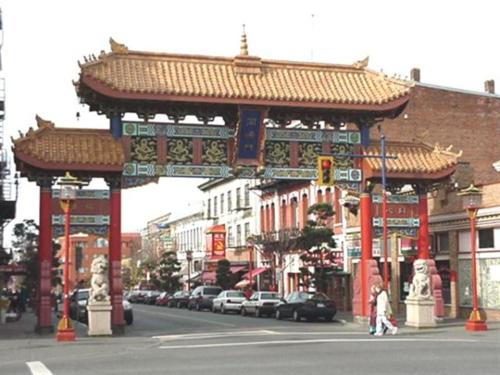 Victoria is proud to have the oldest Chinatown in Canada! Take a walk through Fan Tan Alley, once filled with opium dens and gambling parlours. Pause for a photo at the decorative Gate of Harmonious Interest. Chinatown is filled with interesting shops, markets and restaurants. Guided walking tours are available with John Adams or with one of Chinatown's favourite sons, Les Chan.
The Legislative Buildings for British Columbia are a highlight of a tour of Victoria's Inner Harbour. These magnificent buildings were designed by noted architect Francis Rattenbury when he was only 25 years of age. Rattenbury went on to a number of other significant projects in the city, including the venerable Fairmont Empress Hotel. The buildings are lit up at night by over 3000 lights, a magical sight. Save time for one of the free guided tours of the Legislative Buildings. They are delightful!
Victoria remains the capital city of British Columbia, a city made up of a number of municipalities and a total population of 370 000 people. This region was recently named one of the top retirement areas in North America, chosen due to its climate, rich cultural life, diverse and fascinating environment, safety, affordability, etc. The condominium market has exploded in recent years as retirees invest and move to the city. Ask us for a referral to one of the knowledgeable realtors we have worked with in recent years!
Yes, we know this city well, and we enjoy assisting our guests as they uncover its charms. Stay with us and enjoy affordable oceanfront accommodations as you explore Victoria during a romantic getaway, vacation travel or even a short time with a business stay. Your rest is assured with Dashwood Manor, a member of BC Innkeepers Guild, Victoria's Finest B&Bs, Best B&Bs of Victoria and founding member of Victoria's Historic Inns. Proudly a Canada Select 4 Star property.